Introduction
The Eat Right India (ERI) movement has been launched by FSSAI to protect the health of the people and the planet by transforming the food ecosystem of the country through a systems approach. It is based on three key themes- Eat Safe, Eat Healthy, and Eat Sustainable. It is inspired by the focus on preventive and promotive healthcare through convergence with various flagship programmes like Ayushman Bharat and POSHAN Abhiyaan. .
Eat Right India is a people's movement that adopts a judicious mix of regulatory, capacity building, collaborative and empowerment approaches. It adopts a 'whole of the government' approach since it brings together food-related mandates of the agriculture, health, environment and other ministries. Furthermore, it takes a 'whole of society' approach, bringing all stakeholders from consumers to community organizations, academia etc. together on a common platform.
ERI encompasses a bouquet of initiatives that targets food businesses to supply safe, healthy and sustainable food and consumers to make the right food choices. As part of the core regulatory functions, FSSAI focuses on strengthening food safety through science-based, robust and high-quality standards at par with global benchmarks, effective enforcement drives and efficient (or risk-based) compliance checks through judicious as well as innovative use of resources. This would include bringing all food businesses under the licence and registration regime, conducting periodic risk-based inspections and/or third-party audits, conducting robust checks on imported food, increasing the level of surveillance, sampling and testing drives and building capacities for food-testing through innovative approaches such as public-private partnerships, mobile food-testing vans, rapid food-testing kits etc. Further, to build capacities of food businesses on food safety, FSSAI has initiated Food Safety Training and Certification (FoSTaC) programme to ensure a trained and certified Food Safety Supervisor (FSS) on every food business premises.
Several benchmarking and certification schemes to improve food safety and hygiene standards are in place for clusters such as street food hubs, vegetable markets, stations etc. and the Hygiene Rating scheme targets individual food service establishments like restaurants, bakeries and food retail shops. Consumers are targeted through initiatives such as Eat Right Campus for workplaces Eat Right School for school children. For consumers, the 'Eat Right India' movement is propagated through awareness generation in the form of large-scale social and behaviour change by engaging consumers and educating them on eating right. To educate consumers, a lot of IEC activities are organised to disseminate right messaging about safe and healthy eating practices in the interest of public in the form of videos, TVCs, flyers, brochures along with offline activities like Eat Right Melas, Walkathons etc. FSSAI also uses various communication tools including social media to disseminate scientific and accurate information around food safety, personal hygiene practices, healthy eating habits and other valuable tips for citizens.
Salient Features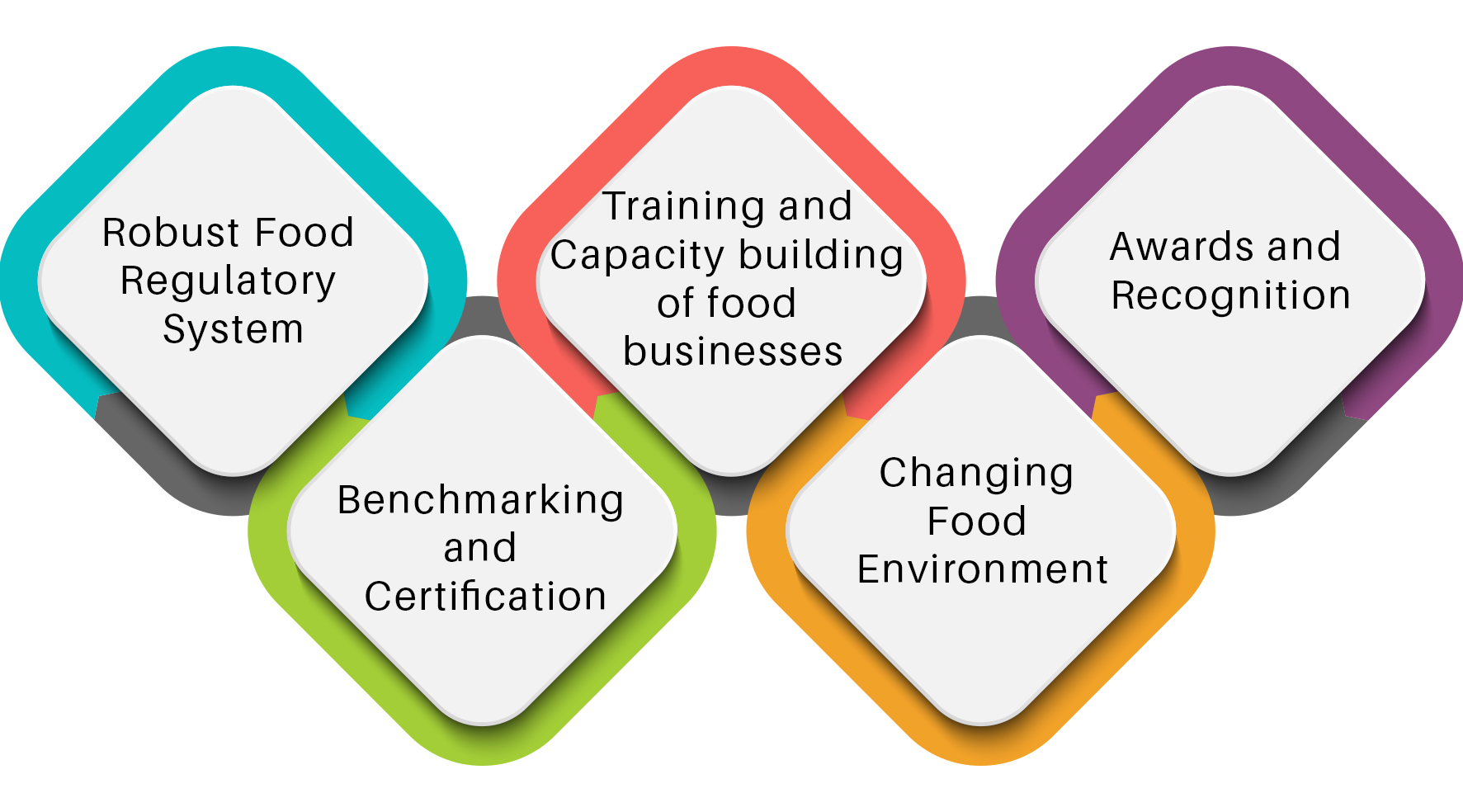 Actionable under the Eat Right Challenge for Districts have been categorized under 5 areas as defined below:
1. Robust Food Regulatory System: This section includes efforts of the State machineries to improve and strengthen the functioning at the ground level including surveillance, enforcement and necessary compliances by facilitating ease of doing businesses through adoption and utilization of technology. Through this challenge, the aim is to broaden the reach of registration/ licensing, enforcement and surveillance activities, digitalization and enabling ease of business through FoSCoS, among other core regulatory activities of FSSAI. Surveillance drives covering the entire district are helpful in identifying key hot-spot areas of food safety issues so that they can be addressed in a timely manner
2. Benchmarking and Certification: Various settings based environment needs to be targeted covering street vendors, fruits & vegetables markets, food-kiosks, hawkers and petty food vendors to improve overall infrastructure as well as food safety and hygiene levels across food establishments. Hygiene Rating certification for catering establishments including restaurants, sweet shops and meat shops ensures food safety compliances. This section aims to inculcate the concept of self-compliances by food businesses through benchmarking and certification schemes.
3. Training and Capacity building of food businesses: This section ensures selfcompliance by food businesses through training and certification of food handlers for large, mid-sized and micro food businesses as well as unorganised vendors. To build capacities of food businesses on food safety, FSSAI has initiated Food Safety Training and Certification (FoSTaC) – a unique program to ensure a trained and certified Food Safety Supervisor on each food business premise.
4. Changing Food Environment: As food is a common thread linking citizens everywhere, the Food Authority 's approach is to transform the 'food environment' in the country to ensure every citizen get access to safe, healthy and sustainable diets. This section focuses on targeting settings-based environment like schools, colleges, campuses and workplaces where people spend a considerable amount of their time. These programs ensure behavioural change in a settings-based approach through training & capacity building of all food handlers followed by the third party audits. Encouraging consumers to adopt fortified foods with +F symbol and millets in their diets would ensure healthy citizens, which in turn, reduces the disease burden in our country. Through this Challenge, the aim is to get maximum number of clusters certified by FSSAI to inspire trust in consumers.
5. Social and Behaviour Change: Citizen Engagements extremely crucial for the success of any large-scale program. To enable mass mobilization, districts should organise large-scale citizen centric campaigns to bring about social and behavioural change. Consumer awareness drives and a series of IEC activities targeting both online/ offline mediums like TV/ Radio/ Cinema/ Billboards/ Hoardings etc. should be organised to generate mass awareness. The aim of this Challenge is to widen the reach of these campaigns and engage as many people as possible.
Expected outcomes
Increased number of Licensing and registration of all food businesses in districts
Increased number of surveillances drives to check adulteration and quality of food
Improved hygien and safety standards in all food businesses to ensure safe supply of food
Engagement with citizens for adoption of healthy eating practices
Changing food environments
Informed and aware consumers
Steps for Implementation





The participating districts will have to log in to https://eatrightindia.gov.in/EatRightChallenge/home and register online
The Registration window opens on April 04, 2022 and will close on April 30, 2022.
Once the districts register successfully and provide necessary details during the registration, they will move on to the Challenge implementation phase.
In case of any change in any of the information pertaining to registration, the nodal officer must intimate FSSAI at the earliest at eatrightchallenge2@gmail.com and revise the information, if any before April 30, 2022
May 01 2022 – Sep 30, 2022 – During the implementation phase
, the registered cities will have to conduct activities from each of the 5 areas of action mentioned below:
A.
Licensing and Registration of Food Businesses and Surveillance Drives
License and Registration Drive
Surveillance drive
Enforcement Samples
Inspection
Grievance Redressal
B.
Benchmarking and Certification
(Any three to be implemented)
Clusters

Clean Street Food Hubs
Clean and Fresh Fruit and vegetable Markets
BHOG (Blissful Hygienic Offering to God) – Places of Worship
Eat Right Station

Individual Outlets (Hygiene Rating)

Restaurants
Hotels
Sweet shops/bakeries
Meat shops
C.
Training & Capacity Building
D.
Changing food environments
(Any three to be implemented)
Eat Right Campus
Eat Right School
Fortification - Demonstration Project for fortified rice, wheatflour and milk
Demonstration of Millets Based Recipe
E.
Behaviour Change Campaigns
(Any two to be implemented)
Digital Media Outreach (TV/Cinemas/Radio jingles)
Promotion in Public Places (Hoardings/Pole Kiosk/ Bus Shelters/LEDs etc)
Social Media Outreach
F.
Innovative Activities
Further, 10 marks have been allocated to Innovative Activities that will be adopted by the participating districts to execute any activity for strengthening the FSS Act and other Eat Right Initiatives, over and above what is mentioned in the 5 areas of action
All participating districts will be provided with a login ID so that Districts can regularly upload the activities carried out by them. They will be able to review the progress of activities, on a real-time basis that are being conducted during the said time period (May 01 2022 – Sep 30, 2022). Data under the area 1, 2, 3 will be auto-fetched at the level of FSSAI HQ and will be visible to the participating districts.
step 4:

Monitoring and Evaluation
After the closing date of the Challenge i.e., 30th September, 2022, all districts will be assessed on the basis of their performance in the implementation phase and the top 150(hundred and fifty) districts or half (50%) of total participating districts, whichever is minimum, will be announced as winners.
After the evaluation process, at the level of FSSAI will begin from October 01, 2022 and The results will be announced on October 16, 2022 Top 150 (hundred and fifty) or half (50%) of total participating districts, whichever is minimum, will be given a prize of INR 5 Lacs.
Timelines and key dates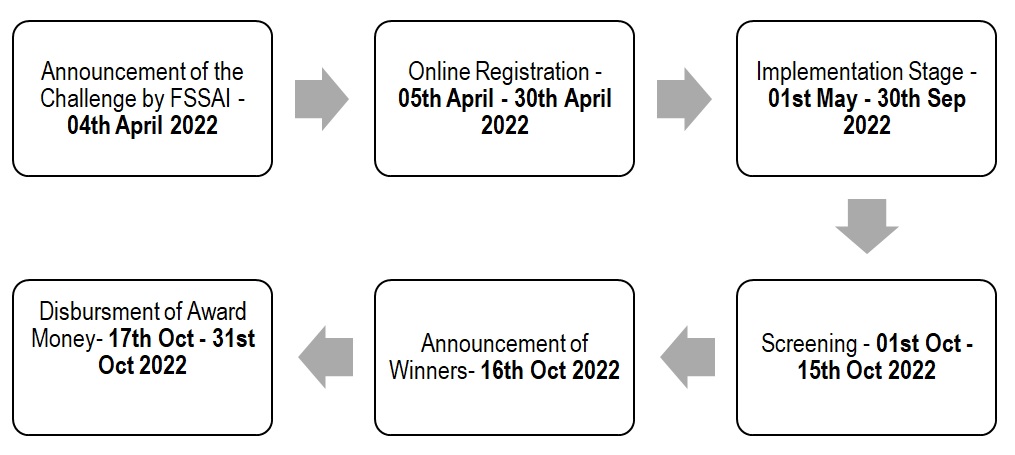 Annexure 1:

Activity Matrix and List of Detailed Activities
Activity / Performance Matrix
Register Now