ERI Initiatives
Apart from the regulatory functions of FSSAI mandated by the Food Safety and Standards (FSS), Act 2006, such as setting science-based, globally benchmarked standards for food, ensuring credible food-testing and compliance to these standards through surveillance and enforcement activities,Eat Right India encompasses a wide range of initiatives and programmes. These initiatives aim to promote both the demand for and the supply of safe and healthy food in a sustainable way. While the supply-side interventions are aimed at building capacities of food businesses to promote self-compliance, the demand-side initiatives work towards motivating consumers to demand safe and healthy food. The initiatives for the production and consumption of food in a sustainable wayare aimed at promoting environment-friendly food practices and habits.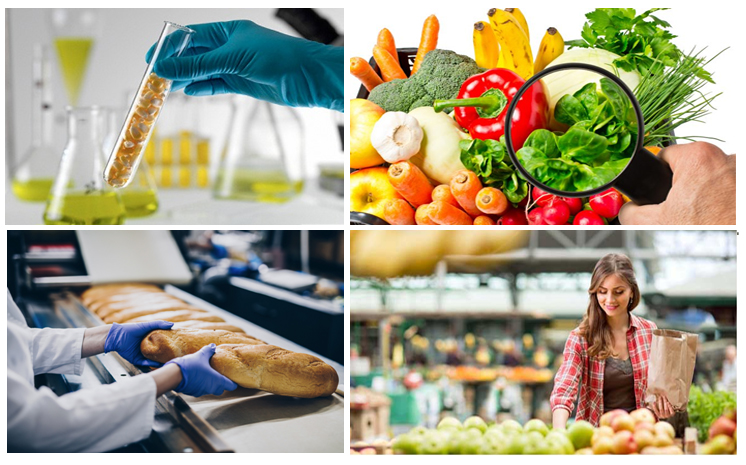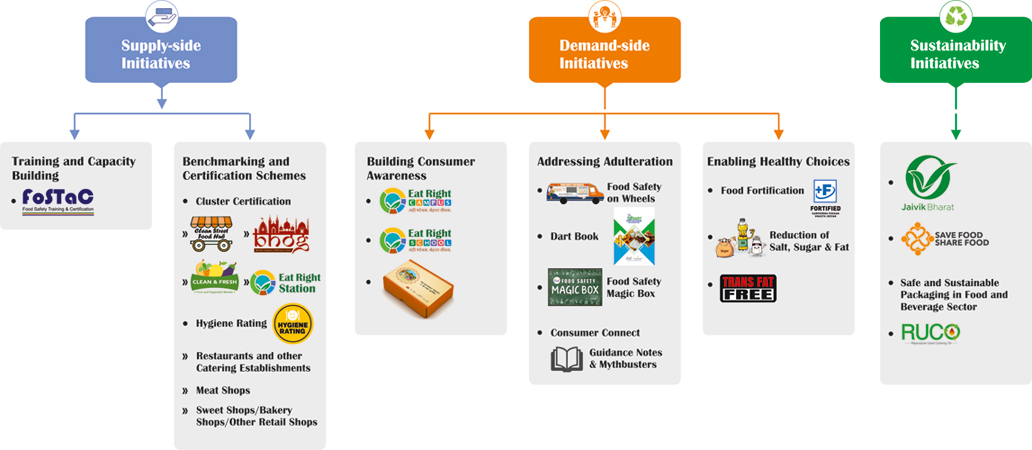 Supply-side Initiatives
On the supply-side, to build capacities of food businesses on food safety, FSSAI has initiated Food Safety Training and Certification (FoSTaC) – a unique program to ensure a trained and certified Food Safety Supervisor (FSS) on each food business premise. Several benchmarking and certification schemes to improve food safety and hygiene standards are in place. Clean Street Food Hub, Clean and Fresh Fruit and Vegetable Markets, Eat Right Station and BHOG (Blissful Hygienic Offering to God) for Places of Worship that are targeted to clusters of vendors. The Hygiene Rating scheme for Restaurants and Catering Establishments, Sweet and Meat Shops has been put in place for individual food service establishments.
Demand-side Initiatives
The demand-side initiatives of FSSAI aim at large-scale social and behaviour change by engaging consumers and educating them on eating right. They work on three major focus areas - Building Consumer Awareness, Addressing Adulteration and Enabling Healthy Choices.
For building consumer awareness a settings-based approach has been adopted with programmes like Eat Right Campus and Eat Right School that target individuals in workplaces, colleges, universities, institutes, hospitals, tea estates and jails as well as school children in schools. The Eat Right Toolkit has been launched to reach communities at the grass-roots level by training frontlines healthworkers on messages on eating right.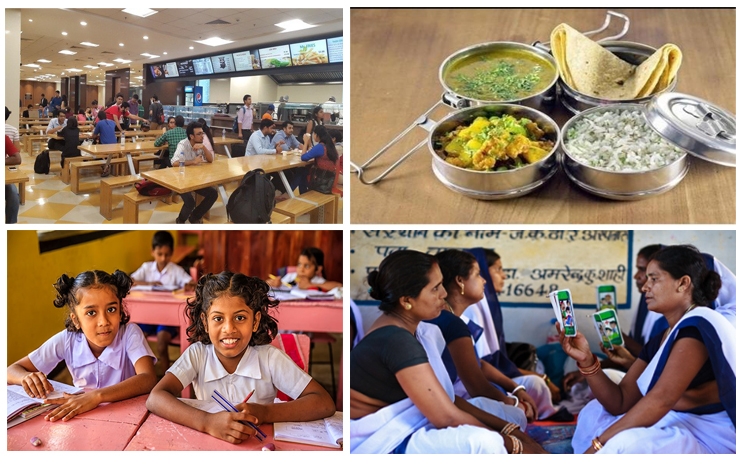 To address adulteration, the DART Book to test food adulterants at home with simple tests has been developed. The Food Safety Magic Box has been created to test adulterants in a school laboratory setting. A mobile food testing van called Food Safety on Wheels has been launched to reach remote areas and conduct training and awareness activities as well.

To enable healthy choices, FSSAI has launched mass awareness campaigns to reduce salt, fat and sugar in the diet, "Aaj Se Thoda Kam" and Trans-Fat Free India@75 to eliminate trans fats by 2022. Food fortification is also being promoted on a large scale to address micronutrient deficiencies across the country.
Sustainability Initiatives
To encourage and support responsible production and consumption of food to protect the environment, FSSAI is spearheading initiatives such as Jaivik Bharat to promote authentic organic food, Save Food, Share Food to reduce food waste and promote food donation, Safe and Sustainable Packaging in Food and Beverage Sector to reduce the use of plastics and Repurpose Used Cooking Oil (RUCO) for safe and healthy use of cooking oil and repurposing used cooking oil to make biodiesel, soap or other useful products.
Eat Right India aims to scale up all these initiatives at the national level in order to ensure that each citizens eats safe and healthy food in a sustainable way.

Scroll