Inspiration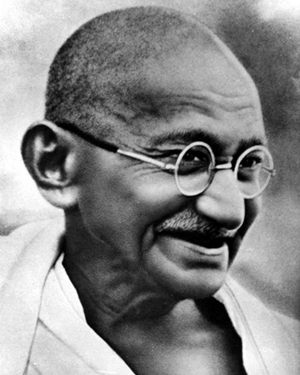 "My life is my message"
- Mahatma Gandhi
Gandhiji's lessons are relevant in many areas of public action even today, including the area of food and nutrition, hygiene and cleanliness and role of mass mobilization in bringing about large-scale social and behaviour change.
Mahatma Gandhi practiced what he preached. He believed in simplicity and minimalism in all aspects of life. Food was no exception. He advocated a simple diet, consuming seasonal produce, eating raw fruits and vegetables to maximize their nutritional benefits. He limited the intake of sugar and salt.Gandhiji also strongly believed in and practiced fasting for Satyagraha and for its numerous health benefits such as detoxification.
Gandhiji's biggest contribution in the freedom struggle was that he inspired and led an expansive 'Jan-Andolan' (People's Movement). Through nation-wide action, he sought to mould millions of Indians and succeeded in uniting the country.
The 'Eat Right India' follows the Mahatma's footsteps to mobilize the nation towards a single goal. It aims to bringpeople from all walks of life together in a Jan Andolan towards a healthier, happier India.
Scroll