Delhi 2018
Pavilion
Theme Pavilion-Gandhiji, Food and Nutrition
Gandhiji is the inspiration for the Eat Right India movement. Gandhiji fought tirelessly for the freedom of the country. Today, the battle we face is of unsafe food and unhealthy diets which are largely responsible for the diseases and death burden of the country. Therefore, his life and his message serve as a guiding force to fight this battle.
The theme pavilion will showcase Gandhiji's food habits and his thoughts on food and nutrition. He said, "it is not pieces of gold and silver, it is health that is real wealth".
Available Food
Relish food at specially curated food stalls in the mela
Iconic Foods: Available at the Flavours of India pavilion, go here to try special delicacies from India-Hyderabadi Biryani, Lucknowi Tunde Kebabs amongst others
Thalis of India: Enjoy different regional thalis put together by the State Bhawana at the Flavours of India pavilion
Religious Foods: Seek blessings and Prasad from sacred places of worship at the Flavours of India pavilion.
From the streets of India: Relish clean street foods by NASVI's vendors from across the country.
Organic Food Bazaar: Try organic food items certified by FSSAI and a specially curated organic food thali
Activities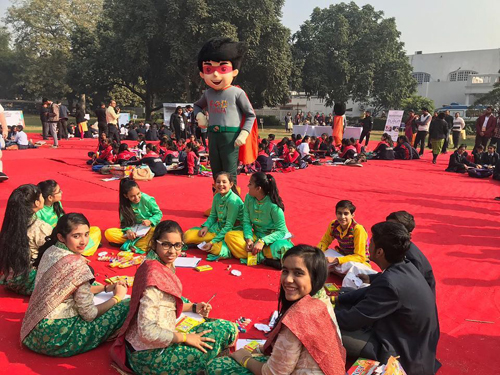 Activities
Physical Activity: Flex your muscles and get rejuvenated through Yoga, Running and Cycling on day 1,2 and 3 respectively.
On the spot poster competition for school children as a part of the ongoing Eat Right Creativity Challenge will be conducted at the Janpath Lawns across all three days of the mela.
Food Quiz The quiz on food safety and nutrition by Professional Associations will sure be some food for thought.
Eat Right Toolkit Masterclass for frontline health workers in association with the Delhi food safety department.
Stories - Educative messages on eat right in the form of stories for kids at Janpath Lawns
Performances & Shows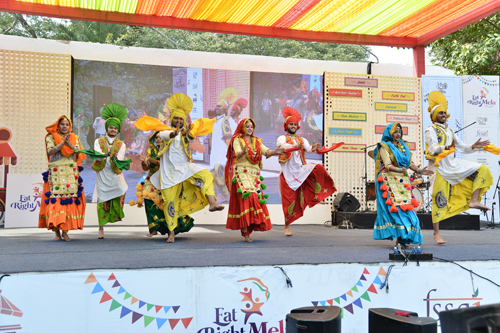 Performances & Shows
To enliven the visitors mood, interesting cultural performances will be organized as part of Eat Right Mela. The meals is seen as glittering mix of music, art, dance,
culture and food. Some of them include:
Film Screenings
National and international movies and documentaries around the theme of food and nutrition will be screened. Check the programme schedule and grab your seats!
Musical Concerts
Live performances by popular music bands will enthrall you
Cultural Shows
To reflect the rich culture and tradition of India, zonal cultural centres under the Ministry of Culture will showcase folk dances and other cultural activities from the states of Jammu and Kashmir, Rajasthan and Punjab.
Theatre
Powerful performances by the youth of India in the form of street play/ theatre is scheduled on all three days of the mela.
Live Demos
Celebrity chefs will enthral the audiences with a plethora of common dishes which can be cooked in a healthy way with use of low salt, sugar and oil. Make sure to be there.
Dialogues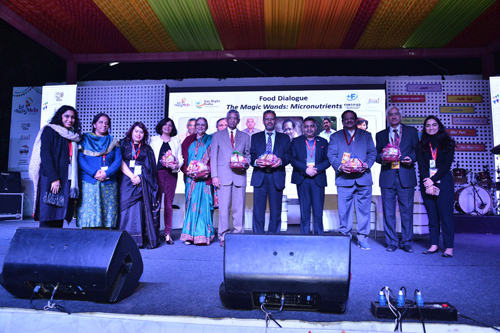 Dialogues
Three days of Eat Right Mela will witness the exchange of great ideas, views and opinions of stalwarts in the field of food and nutrition. The key activities include:
In Conversation: Talks on issues around health, nutrition and food safety by experts including doctors, nutritionists, health writers and other professionals.
Panel Discussions: Rich panel discussions around thought-provoking topics like the Gandhian ideology of food, food adulteration, non-communicable diseases, food fortification, to name a few will be an important part of Eat Right Mela.
Workshops:
SNF@Workplace: A workshop with HR Heads of various corporates and PSUs to participate in the SNF@Workplace initiative to promote safe and healthy eating while at work.
SNF@School: For School Principals and teachers.
Gastronomic Tourism workshop: In association with the Ministry of Tourism and Tasting India Symposium, the workshop will highlight the salient features of street food hubs as drivers of gastronomic tourism
Hygiene Rating: Food service establishments will be sensitized on the Hygiene Rating index developed by FSSAI to ensure food safety
Session Food Safety for Students: In collaboration with CII to educate students on international food standards and regulations
Showcases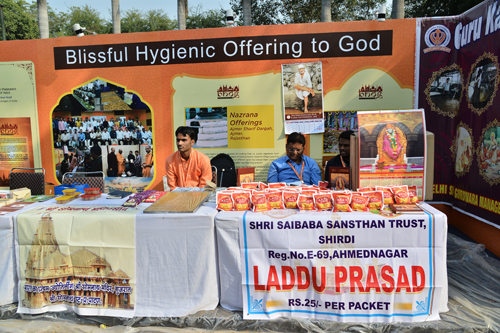 Showcases
These 30-minute showcases will demonstrate the work done by the following three stakeholders-
Government This will showcase the public health programmes of the Government by various line ministries namely-POSHAN Abhiyaan and Anemia Mukt Bharat, Ayushman Bharat Yojana, Swachh Bharat Abhiyaan.
FSSAI This will showcase interesting initiatives by FSSAI that are touching people's lives, ensuring safer foods and creating an enabling environment. These include-Diet4Life, No Food Waste, Clean Street Food Hub, Repurpose Used Cooking Oil(RUCO), Food Innovators Network(FINE) and Food Fortification
Industry- Established Companies and Start-Ups: This will provide established food companies and Start-Ups to showcase their efforts towards promoting healthier food opt