Safe, healthy and sustainable food for all
The Food Safety and Standards Authority of India (FSSAI) is leading a national movement called Eat Right India to ensure safe, healthy and sustainable food for all Indians. This movement is a collective effort of all stakeholders that encompasses a wide range of initiatives on the demand and supply side to transform the food ecosystem of the country. In this spirit, FSSAI, in collaboration with the Smart Cities Mission, aspires to develop the entire urban food ecosystem in cities with end-to-end solutions to ensure safe and wholesome food for its people.
Food, like air and water, is often taken for granted and largely ignored in city planning, despite being a central piece around which life revolves. Looking through the food lens provides modern cities with many interesting opportunities to develop institutional, social and economic infrastructures to ensure the health and happiness of their citizens through safe, healthy and environmentally sustainable food.
In order to achieve this, a cross cutting collaborative approach across different sectors (e.g., health, environment, education) and stakeholders (e.g., businesses, professionals, local and central governments and citizens) at different levels (i.e., local, national and global) is essential. This is the Food Systems Approach (FSA).
A food system describes all the complex stages involved in the production, distribution, marketing and consumption of food. Food system challenges include ensuring safe and nutritious food for all whilst reducing food waste and responding to global challenges such as the COVID-19 pandemic, climate change and international relations.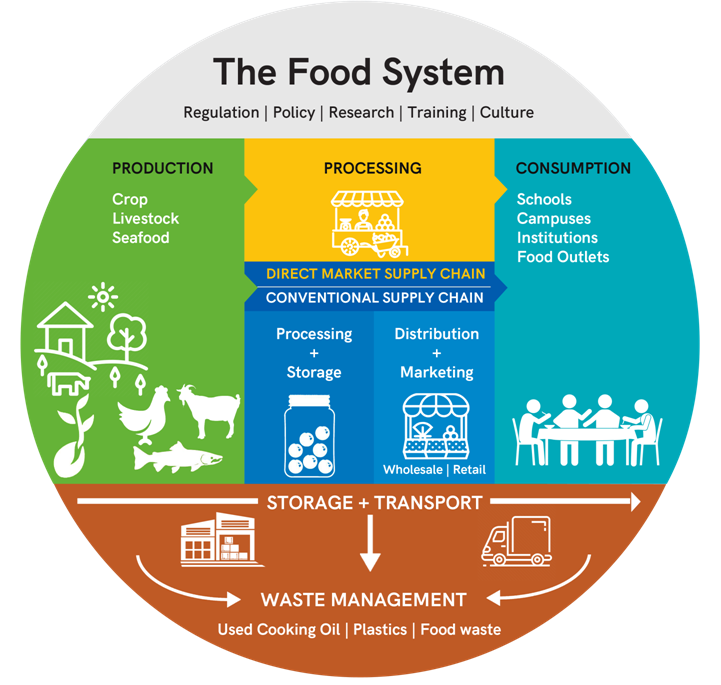 There is growing international recognition of the rolecity authorities play in responding to food system challenges. One of the ways to address this is to integrate sustainable food safety and nutrition systems within the city'splanning processto ensure a city is "EatSmart. Globally, the concept of a Nutrition/Food Smart City is in initial stages of development. Through the EatSmart Cities Challenge, India has an opportunity to play a pioneering role in developing the concept of integrating food systems work into city planning and development. The EatSmart Cities Challenge is an initiative of FSSAI in partnership with national and international thought leaders and the Smart Cities Mission, Ministry of Housing and Urban Affairs, Government of India
The EatSmart Cities Challenge is envisioned as a competition among cities to recognize their efforts in adopting and scaling up various initiatives under Eat Right India. It is meant to motivate cities to develop a plan that supports a healthy, safe, and sustainable food environment supported by institutional, physical, social and economic infrastructure along with the application of smart solutions to combat food related issues.As part of this challenge, cities will create a strategy aligned to the Eat Right India movement in consultation with stakeholders and citizens.It is expected that this challenge will inspire cities to adopt initiatives under Eat Right India, set specific goals for implementation and create a vision totransform their food ecosystems. Based on their vision, 11 cities will be selected for deeper engagement for an extended period to implement their vision.
What do we hope to accomplish?
Food Systems Transformation in Cities
Safe and wholesome food for citizens:Improvement in infrastructure, food safety practices and hygiene standards to ensure availability of safe and wholesome food for citizens.
Smart food choices by consumers: Large-scale social and behaviour change measures along with nudges to stimulate both demand and supply of healthier foods.
Improvement in health outcomes and reduced healthcare costs: Safer and healthier food consumption leading to improved health outcomes such as reduction in food-borne illnesses, non-communicable diseases such as diabetes, hypertension etc, as well as reduction in hidden hunger or micronutrient deficiencies. This will reduce the healthcare expenditure for the entire city, saving resources for other development measures.
Hygiene Credibility of Food Businesses especially e-platforms: In order to cater to the demand from consumers for delivery of safer and healthier food options, Food Businesses, especially e-platforms will receive a boost.
Surge in tourism: Standardization of food safety measures for food businesses particularly street foods that are popular with tourists tohelp boost tourism.
Greener and cleaner environment: Environmentally sustainable food practices such as repurposing of used cooking oil, no food waste, no plastic waste etc. will lead to a greener and cleaner environment, benefitting the overall quality of life for citizens.
Data and knowledge for national evidence-based planning: Data generated from implementation of projects willserve to enhance knowledge and contribute to national evidence-based planning for smarter food solutions.
Complement Government health and nutrition programmes: Smart food solutions in cities willcomplement other Government led nutrition and health initiatives to ensure long term and sustainable change for communities in need.
Boost Employment and the Economy: Transforming urban food systems willcreate new employment opportunities and boost circular economies.